Humidifiers are vital for indoor gardening. They help keep ideal humidity levels for plants to blossom. When picking a humidifier for your grow tent, weigh factors such as size, noise level, reliability of use, types of humidifiers, etc.
Additional features like a humidistat or remote control are also important to consider. No matter what kind of grower you are or how new you are, you need the right humidifier for your plants.
Since the grow tent size matters, the aspects of the humidifiers for 5×5 will not be the same as other sizes. In this article, I'll review the best humidifiers for 5×5 grow tents so you can make an informed decision.
5 Best Humidifier For 5×5 Grow Tents
Let's discuss five of the best humidifiers you can choose for your 5×5 grow tent.
1. Everlasting Comfort Cool Mist Humidifier
Everlasting Comfort Cool Mist Humidifier is one of our top choices for 5×5 grow tents. Its significant reliable features push us to bring it down on the top humidifier list.
Let's see how it can amaze the grow tent owners who need a great humidifier for their 5×5 grow rooms.
Operational Mode: The Everlasting Comfort Cool Mist humidifier comes with an ultrasonic operational mode. It ensures quick moisturization in a dry-air environment. An electrical cord powers it. The oil tray allows you to defuse your favorite aroma while running, giving ultimate mind satisfaction.
Noise Level: This humidifier operates quietly at a noise level of fewer than 30 decibels. Users generally praised this humidifier for its low noise level and effectiveness in combating dry air symptoms.
Tank Capacity and Area Coverage: It features a large water tank of six liters, providing coverage for an area of up to 500 square feet. With its filterless design and extensive coverage, you can save money and maintain proper humidity throughout your 5×5 grow tent.
Runtime: Moreover, it effectively releases mist for extended periods, up to 50 hours, in medium to large-sized grow rooms. Additionally, the humidifier comes with an inbuilt essential oil diffuser, offering aromatic benefits.
However, some reviewers complained about issues with water leakage and difficulty in resolving any problems that arose.
If you are looking for a quiet humidifying experience for your grow room with a massive runtime, then this humidifier will be a perfect choice.
Pros
Extremely quiet
The nozzle's rotation limit is 360o
50-hour runtime with a 1.6-gallon water
Built-in tray allowing essential diffusion as well
Cons
A bit complicated to clean and troubleshoot
2. VIVOSUN Cool Mist Humidifier 6L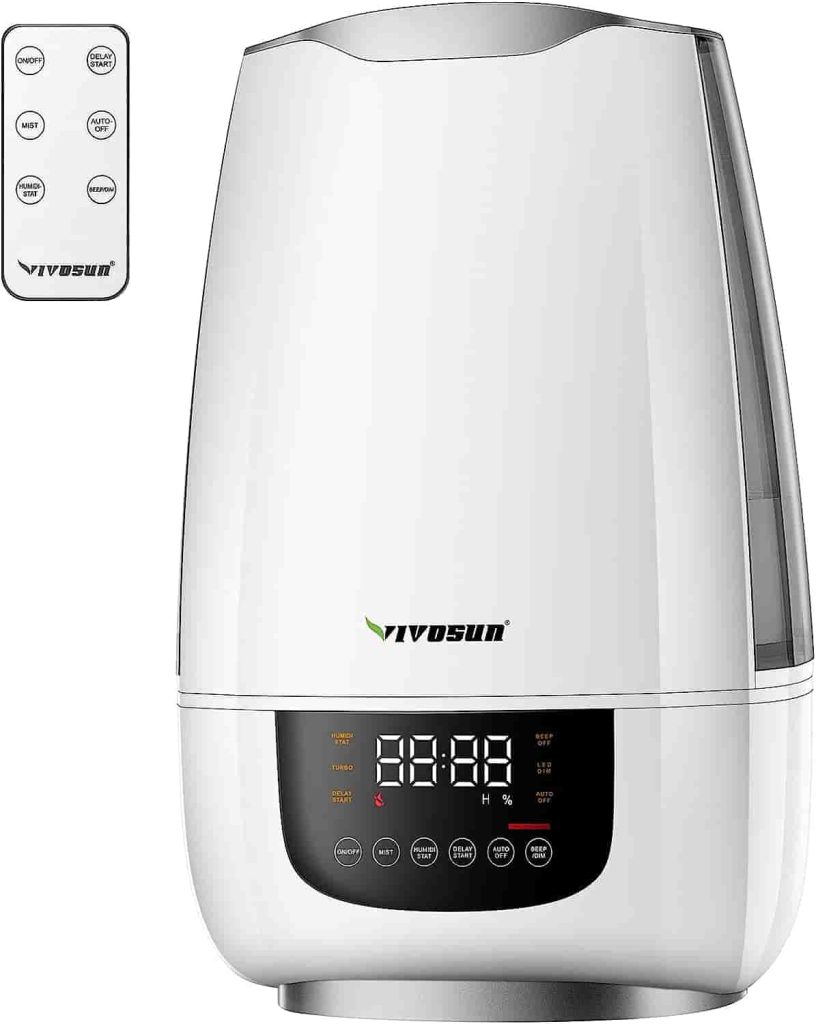 The Vivosun Cool Mist humidifier series is one of the most popular humidifiers among growing tenters. It features some cool features that always force you to keep it on the top list.
Let's see how this makes it.
Operational Mode: The Vivosun Cool Mist 5×5 grow tent humidifier comes with ultrasonic operational mode. So, whatever the dryness of the grow room air, the ultrasonic method will humidify the environment as fast as it starts to run.
Noise Level: It comes with a noise level of less than 38dB, considered quite silent. So, it will not bother your sleep at night when you set it for the nightlong operation.
Its extremely quiet operation also includes a sleep mode. This mode silence sounds and dims lights, making it an excellent nighttime choice.
Tank Capacity and Runtime: This humidifier has a tank capacity of 6 liters. Despite having a larger tank capacity, it can run up to 8 hours with a single filling. It also features a 360° adjustable nozzle for versatile mist release.
Auto Shut-off: This humidifier is equipped with a convenient auto shut-off feature. Upon removing or emptying the water tank, the device turns off. This will save plants in your grow room from potential accidents caused by overheating.
Built-in Filter and Air Ionizer: Besides, it also has a built-in filter and an air ionizer that work together to make the air cleaner. The oil diffuser puts essential oils into the mist to help with relaxation.
However, the manual that comes along with it will be hard to comprehend for beginners. Besides, the display can be unreadable from distant places, especially after placing it in the 5×5 grow tent.
Portability: The 5.5-pound weight of the humidifier makes it quite portable. So you can easily move it from one place to another place.
It might be a good option if you want sleep mode to automatically take care of the nighttime sound and light in your humidifier.
Pros
Auto shut-off
Tank capacity is larger than most of the competitors
Extremely quiet
Sleep mode
Cons
The display isn't user-friendly
3. Venta LW15 Original Humidifier
This 2-in-1 humidifier and air purifier is a device that can improve the air quality in a 5×5 grow tent. It creates moisture in dry air, relieving dry air symptoms like dry leaves.
Operation Mode: The Venta LW15 doesn't have an ultrasonic operational mode. Instead, it features cold evaporative humidification. The evaporative humidification uses fans to distribute the mist around the room. One of the most significant facts about this humidifier is it consumes only 4 watts of energy.
Tank Capacity and Coverage Area: The Venta LW15 features a 1.4-gallon tank. Despite its small size, it can control the humidity levels of a grow room up to 300 square feet. It also has a convenient feature of automatic shut off and a water refill indicator light.
Noise Level: The maximum sound output doesn't exceed 32 dB despite having a fan-controlled humidification method. Hence, you can consider it to be quite quiet.
However, this humidifier lacks the hygrometer feature. Hence, it won't be able to measure the humidity of the grow tent.
However, all these amazing features will come at a big price. Hence, it's not a budget option
It will guard your plants against both dryness and micro-organisms. The humidifier consumes only 4 watts of energy which is significantly energy efficient. But you have to spend a little more than other humidifiers on the list.
Pros
Relatively silent with a max noise output of 32dB
Instant improvement in air quality as water tank guards dust and pollen
Less maintenance cost as there is no filter
Cons
The Hygrometer feature is absent
Not a budget option
4. LEVOIT Classic 300S Smart Humidifiers for Bedroom
If you are searching for something at mid-budget with smart features, the Levoit Humidifier 6L is a perfect option. Let's find out what makes it one of the best humidifier for 5×5 grow tent.
Tank Capacity, Runtime, and Coverage Area: This humidifier has a large water tank that can hold 6 liters of water, allowing up to 60 hours of runtime. This makes it suitable for both grow rooms and large rooms.
By the way, the humidifier has an area coverage capacity of 505 square feet. It's more than enough for a 5×5 grow tent.
Operation Mode: It is powered by ultrasonic operation mode, which enhances the humidity speed fast. Moreover, it can be controlled using a smartphone app, such as Google Assistant or Alexa, even when you are away from the device.
This humidifier runs at 26 watts wattage. Moreover, it requires 120V voltage to operate.
Automatic Humidity Adjustment: It has a smart sensor that can automatically adjust the humidity levels in your grow tent. This prevents over-humidification and keeps your plants properly moisturized.
Controlled Noise Level: The BPA-free material makes it suitable for everyone, including the grow tent and the plants. Moreover, the sound output doesn't exceed 30 dB, making it quieter than most competitors.
This humidifier is by far the best overall humidifier for 5×5 grow tents. You can go for a smart remote control if you are looking for it.
Pros
Auto adjustment of humidity level
App-based control
Large water tank capacity
Massive runtime
Cons
Costly
The humidity monitor is a bit oversensitive
5. TABYIK Air Humidifier with Humidistat and Timer 6L
This humidifier has smart humidity control that detects and maintains the perfect level for your 5×5 grow tent.
Tank Capacity and Runtime: It has a gigantic capability of 6l of water and can give 60 hours of service at a stretch on low mist output. There are 3 mist tiers and a 360o rotating nozzle for different mist output options. Water can be added and cleaned thanks to the top-filling design easily.
Operation Mode: The humidifier comes with an ultrasonic operational mode which ensures fast humidifying. Also, it has a touch panel to control its operation. One of the amazing facts about the humidifier is that it can detect the room's humidity. After that, it can balance the required humidity with its smart humidity control technology.
It requires an Alternating current and draws energy-efficient power consumption.
Light Adjustment and Timer: Besides, this humidifier carries a 7-color atmosphere light design on the flank. These add a soft color to your grow room at night. Additionally, the mode for sleep will auto-adjust the mist release to the lowest level and shut all the lights to ensure a peaceful sleep.
The humidifier also has a 24-hour timer function which won't work alongside the humidistat. You can set the time to stop it automatically after particular hours of operation.
Oil Defusing: This humidifier comes with an oil tray. You just need to drop 4 to 5 drops of oil, and the humidifier will distribute the fragrance around the room. It is perfect for the winter season and moisturizes your plants, improving air quality with peace of mind.
The downside of this humidifier is the length of service period, which is less than most competitors.
Smart humidity control technology should be one of the reasons to pick this one. Also, the 7-color atmosphere light design will help you to detect the humidity level.
Pros
Decent runtime
Lightweight compared to the competitors
Comes with an essential oil tray which ensures 2 in 1 facility
The timer function allows hassle-free humidity control
Cons
The warranty period is less than the competitors
Buying Guide of Best grow room humidifier
Regarding humidifiers for grow tents, there are many options on the market. It can be overwhelming to choose the right one for your needs.
In this buyer's guide, we'll discuss the key features to consider for choosing the best humidifier for a 5×5 grow tent.
Size: What size is perfect for 5×5 grow tents?
Humidifiers are sized differently for different spaces, so you should choose one that fits the size of your grow room.
A humidifier with a capacity of around 2 gallons is ideal for a 5×5 grow tent. This will ensure that the humidifier can effectively add humidity to the entire grow tent.
Keep in mind that the size of the humidifier will also depend on the number of plants you have in your grow tent.
Noise level: What should be the highest level of noise for humidifiers?
Noise level is another important factor to consider. You'll likely have the humidifier running for extended periods.
Therefore, you'll want to choose one that operates quietly, so it doesn't disrupt your day. Look for humidifiers that have noise levels below 40 dB.
Type of Humidifier: which type is the best?
When it comes to types of humidifiers, ultrasonic humidifiers are a great choice for growing tents. They are very efficient and easy to use but expensive. They break water into very fine droplets and then release them into the air as a cool mist, increasing the humidity.
Moreover, there are other types of humidifiers, such as-
Evaporative: These types come with a blower fan and humidity measurement features. However, they get noisier with time
Impeller: These types come with a disc that rotates and puts water into a diffuser. These are the least expensive options. However, they can be noisy from the word go, and the servicing can be tricky.
Mist Temperature: Which one do I need, cool mist or warm mist?
This is another crucial aspect depending on your location. Your plants shall benefit from a cool mist humidifier to simulate their natural environment if you live in a warm place.
On the contrary, plants feel comfortable with a warm mist humidifier if the natural environment is cold.
However, ultrasonic humidifiers do just fine if the climate is temperate. Ultimately, the mist type doesn't create a big difference in most cases.
Price: What is the ideal price range of a 5×5 grow tent?
Of course, price is always a factor to consider when making any purchase. While you want to find a humidifier that fits your budget, don't compromise on quality.
Pay more attention to the price if you can't differentiate between other features. The one with a better brand value or warranty period should be better reasoning to pay more.
By the way, the ideal price range is under $100 for a 5×5 grow tent humidifier.
Other Features: What other features should be considered?
Here are some more additional features you can look for while purchasing a humidifier for your 5×5 grow tent
Adjustable humidity settings: Look for humidifiers that can be adjusted between 40 – 70% humidity
Built-in humidistat: A humidistat helps maintain consistent humidity levels for improved air quality and comfort
Easy-to-clean parts: Molds and bacteria can easily inhabit a humidifier if they can't be cleaned regularly
Replaceable filters: You should be able to swap the filters if they get worn out
A timer function is also a great feature to have
Portability: The humidifier should be mobile, and the water tank should be portable, as the refilling will be done frequently
Remote control, automatic shut-off, and a water level indicator are some additional features that you may want to look for
FAQs
Let's look at some of the frequently asked questions and their answers related to the best humidifier for a 5×5 grow tent
Q.  What type of humidifier is best for a grow tent?
Ans. Cool mist humidifiers are generally considered the best option. They can also keep the air cool while maintaining the right humidity for plants which can be crucial. In contrast, warm mist humidifiers provide additional heat. Heat-loving plants can benefit from this. Plants, budget, and home environment all affect your final choice.
Q.  How do I lower the humidity in my 5×5 grow tent?
Ans. Dehumidifiers pull moisture from the air and then cast it back into the room as dry air.  Vents and exhaust systems pull hot, humid air out of the grow tent and let fresh, dry air enter. It's possible to lower humidity in a grow tent with either method. However, a dehumidifier is more convenient for 5×5 tents.
Q. Is a cool mist or warm mist humidifier better for plants?
Ans. A cool mist humidifier prevents mold and bacteria growth and doesn't raise the temperature of the room. It can get really hot in a warm mist humidifier, and it may cause plants to dry out because of the heat. Cool mist humidifiers also cost less to operate and maintain.
Conclusion
Maintaining proper humidity is important to get the best out of the grow tents. It is equally important as heating the grow tent. Without proper humidity, plants can hardly flourish to their full potential.
Hopefully, today's article will help you to pick the perfect humidifier for your 5×5 grow tent. All of the ones I discussed are unique in their own ways. So before selecting, make sure you do your homework and go for the best fit for your needs.